Figure 1: Tennant Creek located in the Northern Territory, Australia.
Location
Australia, Northern Territory, Tennant Creek Mineral Field (TCMF)
Ground Holding
1,706 km² (Figure 2)
Consolidating ~95% of the Tennant Creek Mineral Field's prospective Warramunga formation rocks
Commodity
Gold (Au) and Copper (Cu)
Ownership Status
100% ownership of all titles, excluding;
Mt Samuel Titles (Emmerson 85%) – MCC's 212 & 308 and MLC's 599 & 619
Mt Samuel Titles (Emmerson 50%) – MLC 617
The Tennant Creek Mineral Field is situated approximately 500km North of Alice Springs on the Stuart Highway, the main road link between Adelaide and Darwin. Important infrastructure running through Tennant Creek includes the Adelaide-Darwin railway and gas pipeline. Tennant Creek has a population of approximately 3,500 and is the main service Centre of the Barkly Tablelands region.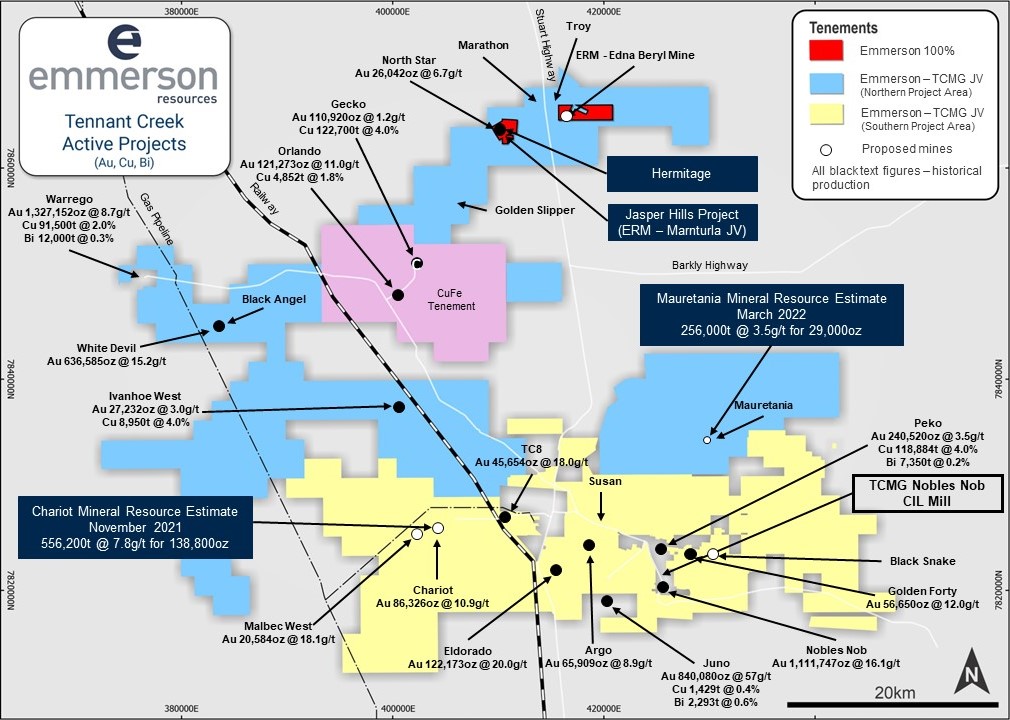 Figure 2: The tenement package is geographically divided into the Northern (NPA) and Southern Project Area (SPA).
Geological Province:
The Paleoproterozoic Tennant Creek province comprises of a poly-deformed flysch sequence (Warramunga Formation) intruded by syn-orogenic granite, granodiorite and felsic porphyries. A group of silicic volcanics and volcaniclastics (Flynn Subgroup) were deposited, but not deformed, during the Barramundi Orogeny, then subsequently deformed and intruded by anorogenic silicic intrusives and lamprophyres.
The gold-copper-bismuth mineralisation of the TCMF is predominantly hosted in magnetite-chlorite-hematite ironstones or sheared variants. The ironstones and mineralisation are localised in EW to WNW trending structures that have historically been referred to as "lines of lode". These ironstones and mineralisation are discordant to the folded Warramunga Formation rocks and tend to be located within structural flexures, near the hinge zones of the fold axes.
Mineralisation occurs in small-to-medium sized lenses within sheared ironstone. Based on historical data, some of the deposits averaged life-of-mine grades of 15-20g/t gold and 2-4% copper. Examples include the classic Juno and Nobles Nob deposits with grades of more than 50-60g/t gold.
The sulphide content of these primary deposits rarely exceeds 10% and common ore minerals include chalcopyrite, native gold, cobaltite, and bismuthinite. The gold-dominant oxide and primary ores are generally free-milling, which can result in high recoveries (up to 98%) being achieved.
Oxidation extends up to 120 metres below the surface and, within the ironstones, results in a hematite-goethite-quartz-clay assemblage. The copper mineralisation is typically leached and depleted while the gold mineralisation can be spectacularly upgraded.
Emmerson's Exploration Strategy in the Tennant Creek Mineral Field
1. Systematic regional exploration through the application of new technologies and concepts,
2. Near-mine exploration to grow existing resources
The key to reinvigorating exploration in the TCMF is the application of new concepts and new technologies.
It can be seen in Figure 3 that discovery (and subsequent production) of new deposits is strongly tied to the application of new concepts and technology. Historically this was the application of magnetic geophysics – where bonanza discovery (and production) closely followed the BMR aeromagnetic survey in 1955, then further discoveries followed on from the more detailed AGSO survey in 1987.
Figure 3: Timeline of exploration discoveries and techniques in the TCMF Emmerson is the first company since 2007 to apply new proprietary exploration techniques and concepts, after consolidating a dominant 1,706km² tenement package.
Emmerson is the first company since 2008 to apply new proprietary exploration techniques and concepts, after consolidating a dominant 1,706km² tenement package. Emmerson believes that the decline in discovery rates as suggested in the chart (above) does not reflect metal depletion but rather is a direct consequence of the lack of fresh concepts and technologies. Emmerson maintains the view that only half of the deposits in the TCMF have been discovered, based upon scientific modelling of deposit populations according to the Zipf Law of Natural populations (Figure 4).
Figure 4: Undiscovered deposit potential of the TCMF
To date Emmerson has discovered high grade gold at Edna Beryl and Mauretania, and high-grade copper and gold at Goanna-Monitor. These are the first discoveries in this province for over a decade and testament to the successful application of new concepts and technologies. The defining characteristics of this new generation of discoveries includes an association with hematite ironstones, that were largely "blind" to previous historical exploration.
Recent Ultra-high resolution unmanned aerial vehicle (UAV) magnetic survey (Drone survey) by Emmerson Resources in progress
---
Northern Project Area – Tennant Creek
The Northern Project Area (NPA) tenements are 100% owned by Emmerson and includes the highly prospective Mauretania (JV with TCMG), Jasper Hills and Edna Beryl Projects.
Mauretania Project
Commodity
Deposit Style
Ownership Status/Partners
Emmerson Resources, Tennant Consolidated Mining Group (TCMG)
Project Phase
Advanced Pre-Mining Studies
Project Status
The Mauretania deposit is a green-fields discovery by Emmerson in 2015, based upon similar geology and targeting criteria to previous discoveries at Edna Beryl and Goanna. The Mauretania deposit is similar in composition to the bonanza-grade, Nobles Nob Mine which produced +1.1Moz of gold at an average grade of 17.3g/t Au. Mauretania is hosted within hematite-magnetite ironstone and features high-grade gold along with silver, copper, and bismuth (Figure 5 and Figure 6).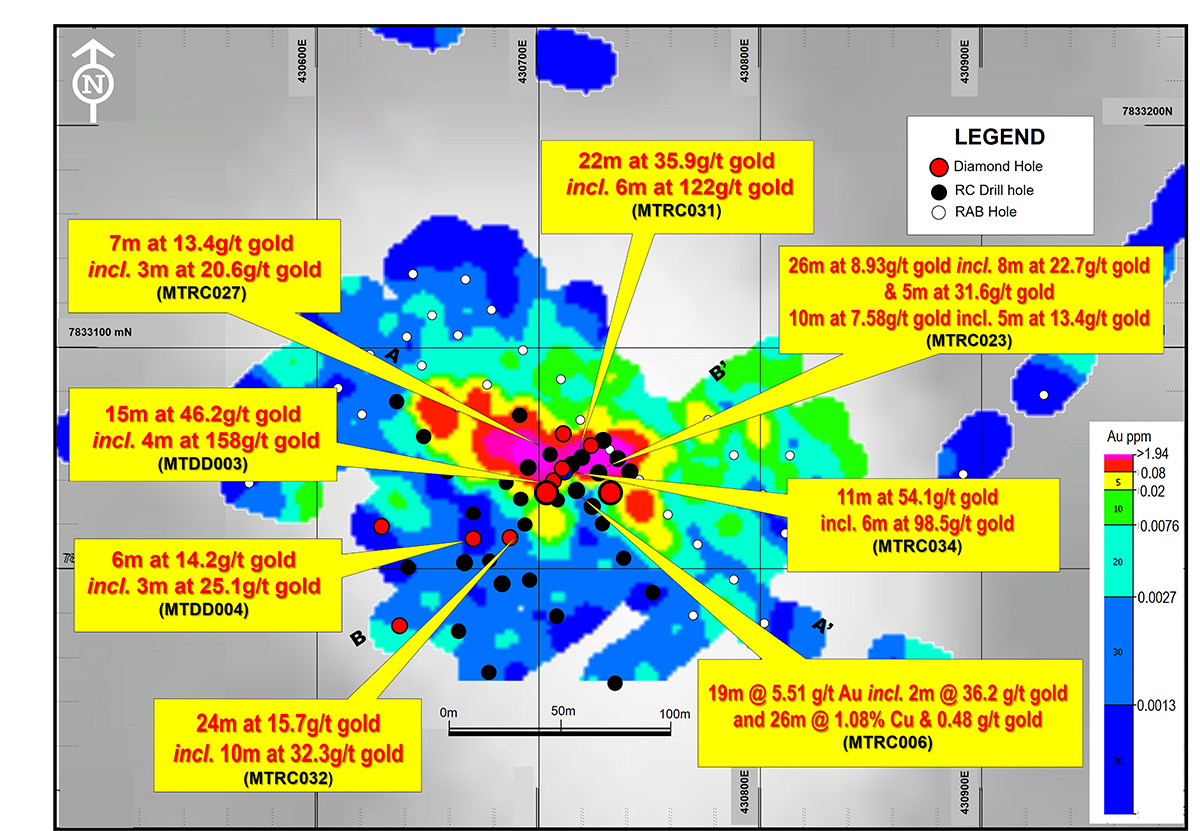 Figure 5: Mauretania project plan view high-grade intercepts (black dots – previous drilling, red dots – diamond drilling, white dots – MTDD009 & MTD010, background gold geochemistry) (ASX: 17 February 2021)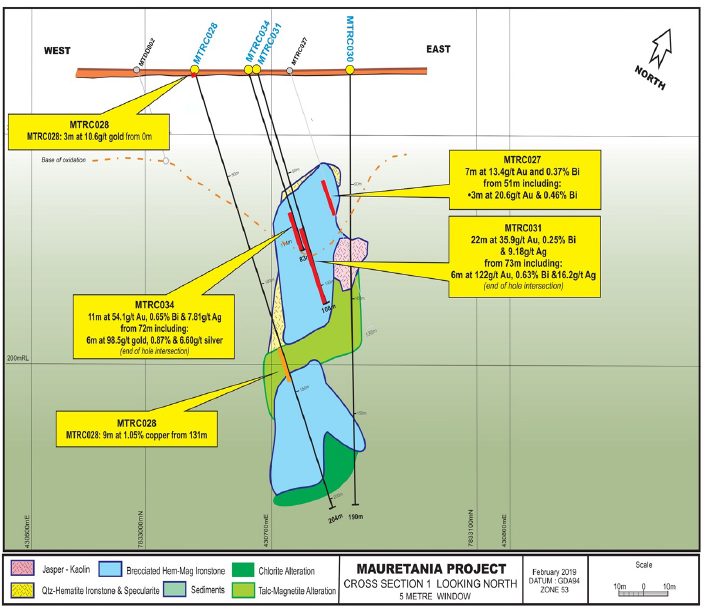 Figure 6: Long section showing MTRC031 – note upper oxide and lower primary gold zone (ASX: 18 December 2019)
Mauretania is currently undergoing a prefeasibility study by TCMG, with advanced studies underway involving mine design options, flora and fauna surveys, geotechnical and metallurgy reviews, and near-mine exploration potential.
Completed Work
Various phases of drilling since the Emmerson discovery
Sub-audio magnetic (SAM) survey
Completed Ultra-high resolution UAV magnetic survey (Drone survey) with a 10m line spacing
Results
The latest results from Mauretania are significant in terms of intersecting the underlying source of the upper oxide gold mineralisation. This expands the potential for adding to the existing mineralisation
The gold and copper mineralisation remain open to the northwest and at depth, with the typical metal zonation in these styles of deposits consisting of primary gold beneath or lateral to the copper.
Planned Work
Delineation drilling
Prefeasibility studies and JORC Resource estimate
Mine plan and budget
Mining approvals and permitting
Further drilling to test extension of mineralization at Mauretania deposit
Jasper Hills Project
Commodity
Deposit Style
Ownership Status/Partners
Emmerson Resources, Marnturla JV
Project Phase
Ground Access and Target Delineation
Project Status
The Jasper Hill prospect features high-grade gold, copper, and cobalt results (Figure 7).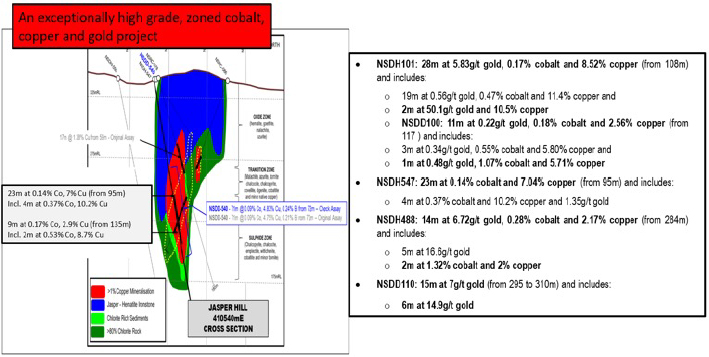 Figure 7: Jasper Hills drilling cross-section looking West – drilling intercepts (ASX: 6 September 2018)
While Jasper Hills was discovered back in 1930's, it received little attention at the time due to a combination of the low cobalt, copper and gold prices, plus other priorities such as development of the nearby North Star mine. Following the decommissioning of North Star, the entire area was declared a Restricted Work Area that contained a number of sacred sites, and thus has been off limits to exploration ever since.
The Jasper Hills mineralisation is hosted in brecciated hematite ironstones surrounded by intensely chloritized sediments of the Warramunga Group. The ironstones are enveloped by silicified carbonates, quartz, and jasper, and encompass high-grade gold exploration targets (North Star Deeps Gold, Jasper Hill Gold), high-grade copper exploration targets (Katherine Star, Northern Star and Hermitage) and high-grade copper-cobalt exploration targets (Jasper Hills).
Mineralisation at Jasper Hills is typically associated with the footwall or core of the ironstones, whilst the oxide zone consists of malachite and lesser azurite. The transition zone includes these plus bornite, chalcocite and native copper, extending down some 200m below the surface to encompass the sulphide zone of mainly chalcopyrite. The high-grade cobalt zone transgresses the copper and consists of mainly cobaltite in association with chalcopyrite and digenite. Historic metallurgical testing of these ores in the 1990's produced a high-grade copper and cobalt concentrate, with a 20kg sample grading 3.6% copper and 0.16% cobalt (1990 Optimet Laboratories).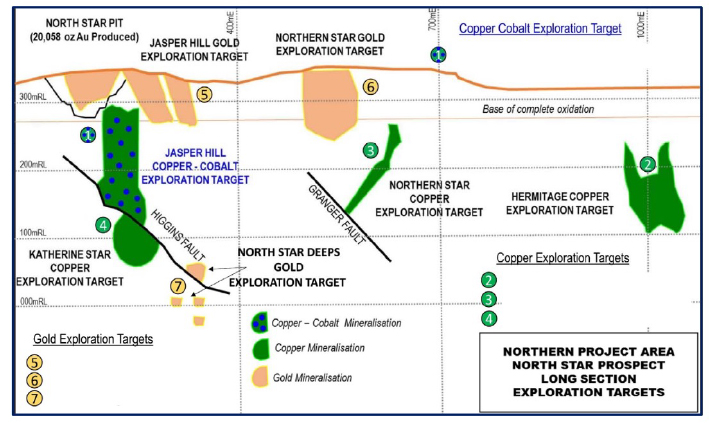 Figure 8: Schematic long section highlighting the potential of the project area. Note that these exploration targets are conceptual in nature and that there has been insufficient exploration to estimate a Mineral Resource (ASX: 06 August 2020)
In late 2020 Emmerson reached a landmark agreement with the Traditional Owners of the Jasper Hills – North Star area. This Native Title Agreement provides an equity interest for the custodians of the land, employment opportunities plus safeguards in relation to the sacred sites.
Completed Work
Native Title agreement with the Marnturla Aboriginal Corporation
Re-assaying of historic drill core
Updated geological model and geochemistry analysis
Results
A new geological model for Jasper Hills indicates potential for multiple zones of high-grade gold, copper, and cobalt mineralisation – in an area that has seen no modern exploration. The indicative cobalt grades at Jasper Hills along with the combination of copper and gold provides potential for high value ore.
Planned Work
Submission of work programs to the CLC and Aboriginal Area Protection Authority
Geological analysis and review of targets
Drilling
Edna Beryl Project
Commodity
Deposit Style
Ownership Status/Partners
100% Emmerson Resources
Operators
Project Phase
Project Status
Edna Beryl was discovered by prospectors in 1935 and mined underground in the 1940s and 1950s to a maximum depth of approximately 50 metres. Production up until 1952 was reportedly 2,700t of ore at an exceptional grade of 53g/t gold (ASX: 06 December 2016).
More recent exploration between 1996 and 2000 by Giants Reef Mining outlined additional high-grade gold mineralisation below the historic workings of the Edna Beryl East Mine.
The high-grade gold mineralisation at Edna Beryl is very typical of the TCMF, however this style of predominantly hematite associated gold has gone virtually undetected by previous explorers.
The Edna Beryl Mine is currently being mined under a Tribute Agreement between Emmerson and the Edna Beryl Mining Company (EBMC) (now owned by Territory). Emmerson retains 100% ownership of the mineral lease and receives 12% of all gold produced.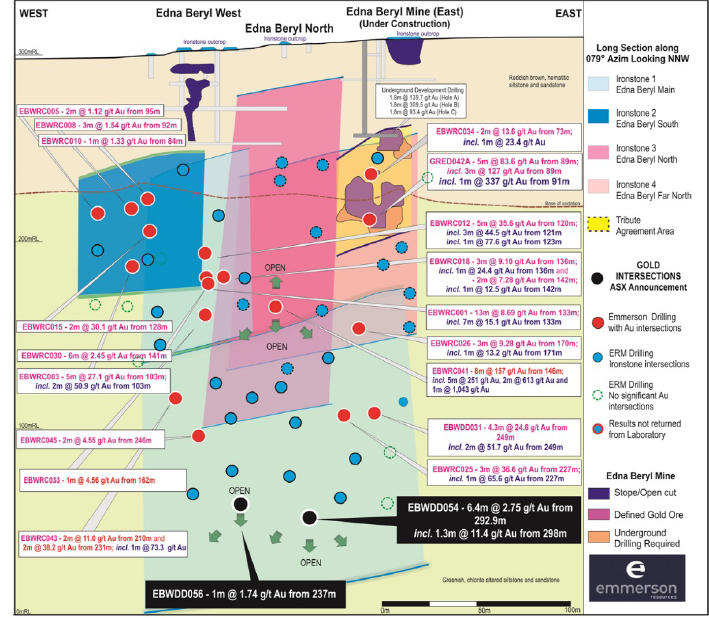 Figure 9: Edna Beryl longitudinal section looking NNW (ASX: 20 December 2017)
Completed Work
Trial mining during 2017-2019 (Figure 12)
Results
Trial mining:

2,107t @ 29g/t
$420k royalties payable to Emmerson
Figure 10: First trial mining gold pour at Edna Beryl (ASX: 20 December 2017)
Planned Work
Awaiting the current Operators, the Edna Beryl Mining Company to resume activities
Opening of Emmerson's small mine at Edna Beryl with the Traditional Owners, Northern Territory Government & Emmerson Resources Board
---
Southern Project Area - Tennant Creek
The Southern Project Area (SPA) tenements are 100% owned by Emmerson and includes the highly prospective Chariot Mine which forms part of the JV with TCMG.
Chariot Project
Commodity
Deposit Style
Ownership Status/Partners
Emmerson Resources, Tennant Consolidated Mining Group (TCMG)
Project Phase
Pre-Feasibility to include: modelling and JORC Resource Estimate
Project Status
The Chariot deposit is located approximately 10 km west of the Tennant Creek town site. Chariot has been mined by both open cut and underground methods. The Chariot Mine operated between 2003-2005, producing 253,734t @ 10.9g/t gold for 86,326oz gold. The mine was closed in 2005 due to Giants Reef Mining (the then mine owner) entering administration.
The Chariot deposit is located within a steeply dipping, east-west striking magnetite-hematite rich ironstone lens within the Warramunga Formation sediments. The ironstone lens runs sub-parallel to sediment bedding, with chlorite altered hangingwall and footwall zones (Figure 11).
The mineralisation at Chariot is gold dominant, with minor to subordinate copper and bismuth hosted by the magnetite-hematite-chlorite rock. The mineralisation is interpreted to be structurally controlled via short-range structures, lenses, and shoots. These lenses have dimensions ranging from 5 m to 50 m along strike and 10 m to 100 m down dip. The weathering profile over the Chariot mineralisation is extensive to depths of over 100 m.
Figure 11: Chariot cross-section depicting geology and drilling intercepts (ASX: 28 November 2013)
Table 1A: A total of 138,800 ounces of gold has been reported as a MRE is in compliance with the 2012 JORC Code and represents an increase of 40% from the previous underground estimate in November 2013 (ASX: 2 December 2021)
Figure 12: Chariot long section (looking North) depicting grade shoots (ASX: 2 December 2021)
The Chariot MRE has an approximate strike length of 160m and width of up to 30m within ironstone and alteration units. The reported MRE comprises 2013 historical open pit and underground resource and a 2021 update consisting of an underground resource - both estimated by Optiro Pty Ltd (Figure 13).
For open pit reporting, the cut-off grades applied to the estimate were 1.0g/t gold for reporting above 180mRL within an optimised pit shell (Figure 13). For underground reporting the cut-off grades applied to the estimate were 2.0g/t gold reporting below the 180mRL (Figure 13). Material in the open pit model was upgraded from Inferred to Indicated (Table 1A and Table 1B), based on a geotechnical core logging and consultant review that assessed the material as having reasonable prospects of economic extractionNear-mine exploration potential is compelling, as the Chariot deposit sits within the "Wine Line Corridor" (Figure 13) which also hosts the TC 8 Mine, and several magnetic anomalies which to date have been sparsely explored.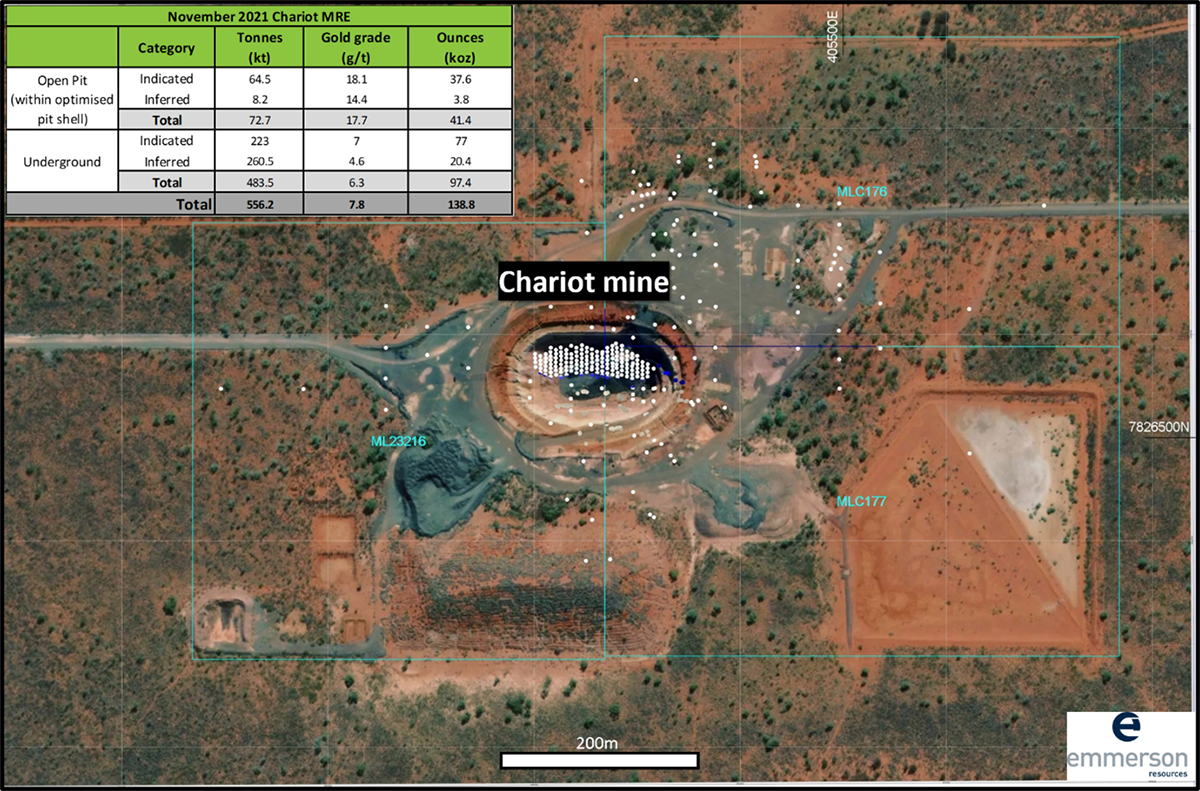 Figure 13: Plan view of Chariot Deposit and drill hole location. Also showing the Chariot Mineral Resource Estimate. (ASX: 2 December 2021)
Completed Work
Various drilling campaigns
JORC Mineral Resource Estimate
Completed Ultra-high resolution UAV magnetic survey (Drone survey) with a 10m line spacing along the Wine Line Corridor which included the Chariot deposit
Results
Total JORC Mineral Resource Estimate 138,800 ounces of gold (ASX: 2 December 2021)
Planned Work
Finalise mining options and studies, and permitting and assessing the potential for resource additions, particularly from extensions to the underground resource which currently remains open at depth