Emmerson Resources has built a highly prospective exploration portfolio of projects covering 2,300 kms in the Northern Territory and 2,632km² in the Macquarie Arc of NSW.
Incorporated on 10 November 2005 and subsequently listed on the ASX on 17 December 2007. The company's head office is in Perth, Western Australia. Emmerson is led by a group of experienced Australian mining executives including former BHP Billiton and WMC executive Rob Bills as the Managing Director and CEO; Former Mount Isa Mines and WMC mining executive Andrew McIlwain as Non-Executive Chairman; and Dr Allan Trench, a Non-Executive Director with a geology/geophysical background and extensive experience in strategy, project development and operations within the natural resource sector.
Emmerson Resources – a unique value proposition
The largest creation of shareholder value comes from the discovery of mineral deposits. Whilst there are many pathways to discovery, Emmerson strongly believes in utilising the best science and business practices to increase the probability of success. Most critical to discovery is ensuring exploration is focused only in the most prospective geological belts. As such, Emmerson has formed a strategic alliance with the world renown targeting company, Kenex Limited. Resulting in the construction of proprietary 2 and 3D predictive targeting models that are aimed at increasing the probability of discovery from analysing multiple, independent layers of data.
The area selection process provides ranked targets that are then subject to systematic exploration. Emmerson also partners with those research institutes and consultants that are at the forefront of understanding the respective geological belts and deposits. Moreover, our exploration programs are conducted within a business framework consisting of various stages, gates (success criteria) and budgets – ensuring the exploration funds are directed into the very best opportunities.
Our Strategy
Superior value from a strategy of discovery, mining and production.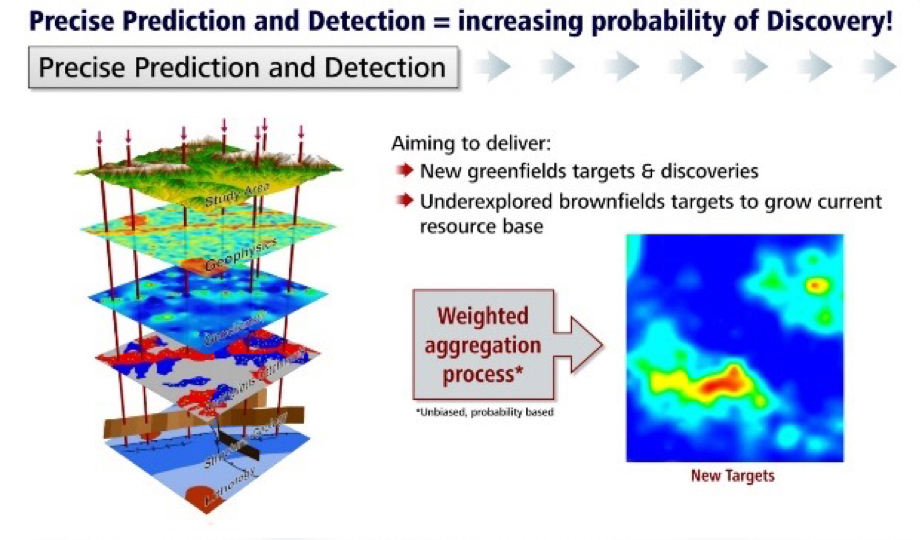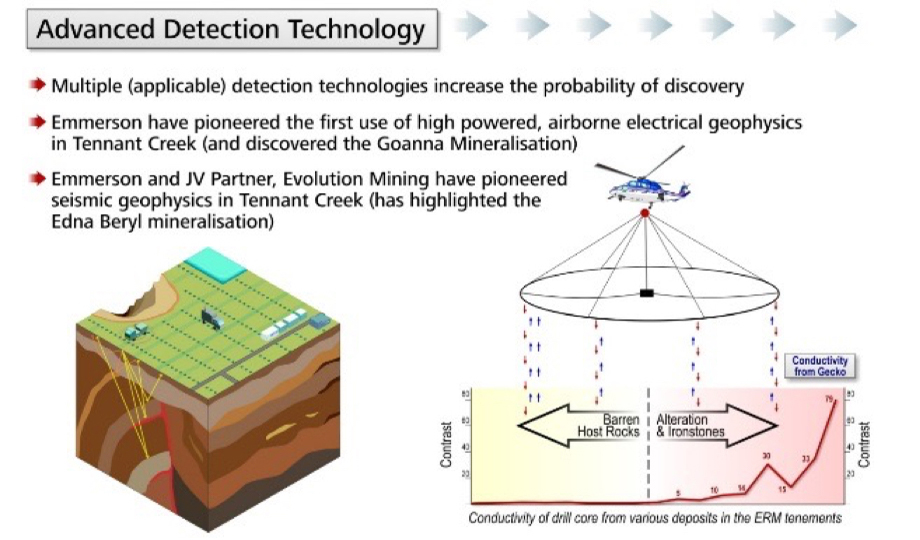 The largest creation of shareholder value comes from discovery.
Application of proprietary 2D and 3D targeting models to predict where the next discovery will be.
Use appropriate detection technologies to discover.
Maximise value from low risk path to production, expand existing resources via nearmine exploration
Deal assets that are not value accretive for ERM. Warrego mill, profit share on mines.
Our Projects
Emmerson has consolidated a large land package in one of Australia's highest-grade gold fields – the Tennant Creek Mineral Field (TCMF) in the Northern Territory. This field is renown for high grade, high margin deposits and is where Emmerson has been conducting modern innovative exploration. Which to date has resulted in the first discoveries in the field for over a decade.
Emmerson's vision is to establish a low risk path to developing and monetising our portfolio of small high-grade mines. Thus, providing the funding for ongoing exploration both at Tennant Creek and NSW. Consistent with this is our recent announcement of a Strategic Alliance with Territory Resources as follows:
Tennant Creek Project
Emmerson has secured a Strategic Alliance with TRL Tennant Creek Pty Ltd (a subsidiary of Territory Resources Ltd) (TTY) that includes a Mining and Exploration Joint Venture covering the Southern Project Area (SPA) at Tennant Creek.
TTY has subscribed for A$2m of new Emmerson shares priced at A$0.1035 a share, a 56.82% premium to the price at time of completion (completed within Emmerson's placement capacity under Listing Rule 7.1).
Emmerson has sold its mothballed Warrego Mill to TTY, with TTY committing to construction of a modern 300,000tpa Carbon in Pulp mill on the site.
Mining and Exploration Joint Venture over the SPA at Tennant Creek aims to accelerate the discovery of new deposits and/or extensions to the existing mines for processing at the new mill:
Emmerson to receive a 12% and 6% gross revenue (less refining costs) royalty of all gold produced for the life of the Edna Beryl and Chariot mines respectively.
Emmerson to receive a 25% profit share from any other mine developed within the SPA (other than Edna Beryl and Chariot) in exchange for TTY developing, mining and processing the gold at its cost.
Ore from the SPA, Edna Beryl and Chariot to be given priority processing by TTY at the new mill on an agreed "cost plus" basis.
TTY to fund A$5m of exploration over five years across the SPA to earn a 75% interest in the SPA.
Emmerson to retain 100% ownership of the majority of the Tennant Creek Mineral Field (circa 75% of the existing tenement package), including the recently announced Mauretania gold and Jasper Hills gold-copper-cobalt projects, plus the high-grade Edna Beryl Gold Mine.
Strategic Alliance with Territory Resources
Realising the vision of an integrated mining, processing and exploration centre!
$2.0m placement at a ~57% premium to the current ERM share price
Sale of our Warrego Mill - TTY refurbishing: production scheduled in 2019
ERM to have priority processing on a cost + basis
Accelerating Mining and Processing from Emmerson's existing mines in the SPA on a profit share and gold royalty basis
New $5m earn-in and JV with TTY over the SPA
ERM to retain 100% ownership of the majority of the Tennent Creek Field (~75%)
NSW Projects
Emmerson identified the Macquarie Arc in NSW as a world class metal endowed geological belt that for a variety of reasons is very under- represented in terms of copper-gold discoveries. In 2015, Emmerson and strategic alliance partner Kenex Limited commenced a very detailed analysis of the attributes of this belt, culminating in the application of large ground positions that are highly prospective for both porphyry copper-gold and epithermal gold-silver deposits (applied under Emmerson's subsidiary company Lachlan Resources).
The metal endowment of the Macquarie Arc (in NSW) hosts >80Mozs gold and >13Mt copper with these resources heavily weighted to areas of outcrop or limited cover. Emmerson's five exploration projects contain many attributes of the known deposits within the Macquarie Arc but remain under explored due to historical impediments, including overlying cover (farmlands and younger rocks) and a lack of exploration focus. Kadungle is a JV with Aurelia Metals covering 43km² adjacent to Emmerson's Fifield project.