NSW Community Relations
Emmerson Resources Ltd holds an exploration licenses over the Lachlan Fold Belt, New South Wales. Using the NSW Government Guideline for Community Consultation Requirements for Exploration, the company places huge importance on building relationships with local farmers and community in conducting its exploration activities.
Emmerson Resources has a social responsibility to identify all stakeholders within its community who may be affected by its operations, directly or indirectly.
We are committed to building and sustaining mutually beneficial relationships with our community by:
Maintaining a high level of consultation with local landholders and key stakeholders.
Protecting and respecting human and property rights, and sites of heritage or cultural significance.
Providing funds into the local economy through wages, contracts with local suppliers and service providers, and locally purchased goods.
Emmerson Resources' goal is to build and maintain trust and respect within the communities in which we operate.
---
Traditional Owners
The Traditional Owners of Tennant Creek and surrounding lands are the Warumungu Tribe and are represented by the Central Land Council (CLC). The CLC have offices in Tennant Creek and Alice Springs.
The CLC is a representative body promoting Aboriginal rights. It is a statutory authority under the Aboriginal Land Rights (Northern Territory) Act 1976 and also has functions under the Native Title Act 1993 and Pastoral Land Act, 1992.
For more information on the CLC, contact the following website: www.clc.org.au
Aboriginal Land
The Aboriginal Land Rights (Northern Territory) Act 1976 legislates that mining and exploration companies must obtain the consent of, and in certain cases agreement with the traditional owners, for the grant of mineral rights and to gain access and explore on Aboriginal lands.
There are two types of aboriginal land rights within the Tennant Creek Mineral Field:
The Aboriginal Land Rights Act (NT) 1996 provides for Aboriginal freehold land, vested in the name of the Warumungu Aboriginal Land Trust, and
The Native Title Act applies to Partta Aboriginal Corporation Land (NT freehold title) as well as land under Pastoral Lease in the area.
Emmerson Resources are party to eight separate agreements with the Central Land Council (four agreements covering Aboriginal Freehold Land, five agreements covering Pastoral Lease). These agreements detail the terms and conditions pertaining to Emmerson Resources exploration access, activities and future mine development on the lands of the Warumungu people.
Tennant Creek Areas covered by CLC Agreements
Each agreement includes various provisions, including but not limited to:
The protection of sacred sites and aboriginal interests.
Environmental protection and rehabilitation.
Aboriginal employment.
Work planning and execution.
Compensation and other payments.
Emmerson Resources prides itself on continuing the legacy of good relationships with the traditional land owners of the Tennant Creek Mineral Field.
---
Pastoralists
Two large pastoral leases co-exist with mining and exploration leases in the Tennant Creek Mineral Field:
Philip Creek Station
Tennant Creek Station
Emmerson Resources Pastoral Lease Boundaries
In spatial terms, pastoralism is the dominant land-based industry in the Northern Territory, occupying approximately 55% of the land area and extending from the high rainfall monsoonal areas of the Top End in the north, to the arid regions of the Alice Springs District in the south.
Emmerson Resources is proud of its strong and continued working relationships with both Tennant and Phillip Creek pastoralists in the Tennant Creek Mineral Field and have secured access via shared resources and Land Access Agreements.
For more information on the NT Pastoral Industry, visit the following web-site: www.nt.gov.au/dpifm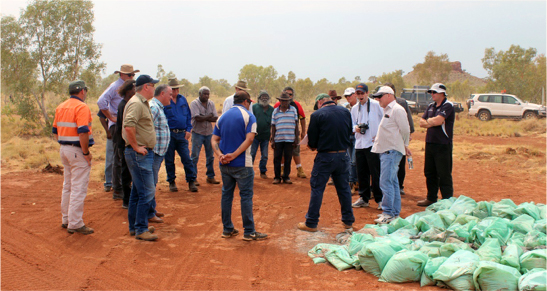 Field inspection 2016 Mauretania Project with Traditional Owners, business partners and key stake holders.
Other local community organisations that Emmerson Resources are involved in are:
Chamber of Commerce (Tennant Creek & Alice Springs)
Tennant Creek Regional Economic Development Committee (Board representation)
St John Ambulance (Volunteers)
NT Bushfires (Volunteers)
Battery Hill Mining Centre (Life members & board representation)
Tennant Creek Show Society (Sponsor & exhibitor)
Barkly Rodeo and Camp draft (Sponsor)
Barkly Beef Dinner (Sponsor)
Stars Foundation (Patron)
---
Community Relations
Emmerson Resources engaged the community of Tennant Creek in 2008 as soon as exploration commenced in the Tennant Creek Mineral Field (TCMF). Initial contact was made through the Central Land Council and Local government contacts.
Emmerson Resources quickly identified the work the Clontarf Foundation was undertaking in a small academy room located at the Tennant Creek high school.
Emmerson became the inaugural Clontarf Industry Partner (Tennant Creek) in 2009 and have grown this relationship during subsequent years, remaining as key supporter.
For more information on the Clontarf Foundation contact the following website: www.clontarf.org.au.
---
Emmerson Cup
Each year in October the annual Emmerson Cup occurs. This year the Tennant Creek Clontarf Academy's Barkly Blazers took on the Yirara Clontarf Academy Brumbies at Purkiss Reserve, Tennant Creek. It was a close game with both teams playing well, in the end the Barkly Blazers took out the match, keeping the Cup in Tennant Creek for yet another year
Andrew McIlwain (Emmerson's Chairman) and Steve Russell (Emmerson's Exploration Manager) present the Tennant Creek Clontarf Academy's Barkly Blazers with an annual cash donation post 2017 Emmerson Cup.
---
Emmerson and Clontarf Relationship
Emmerson has been pleased to offer after school and holiday work during our Exploration programs.
This work provides a unique opportunity for young (13-17year) aboriginal students to engage in meaningful work in an operating mineral exploration company. Tasks that the Clontarf students may be asked to do include working on drilling rigs, vehicle checks and maintenance and data entry.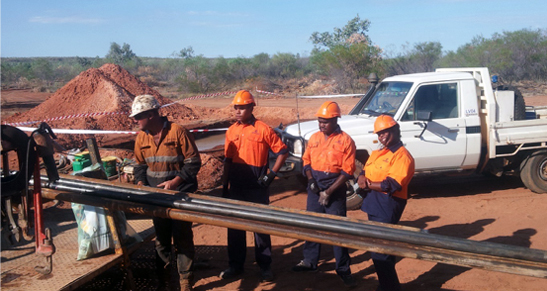 Tennant Creek Clontarf students with GMP Exploration Drilling contractor.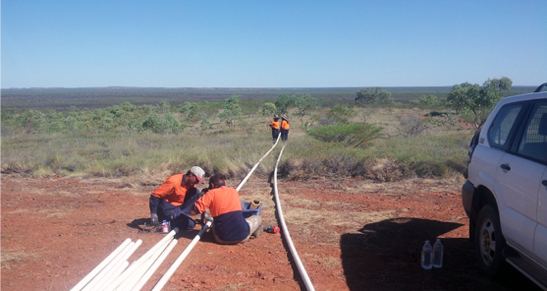 Tennant Creek Clontarf students with joining PVC casing to allow for drill hole geophysical probe surveying..