Summary of the Strategic Alliance
The Strategic Alliance between Emmerson and Territory Resources(TTY) is transformational for Emmerson (and the wider Tennant Creek Region) as for the first time for many decades, it delivers to our strategy of monetising stranded assets through developing an integrated, mining, processing and exploration hub.
The Alliance provides a low risk pathway to commercial production from Emmerson's portfolio of small mines and importantly, will generate funding for ongoing exploration programs in the Northern Territory and New South Wales.
The three components of this alliance with TTY will facilitate:
Construction of a modern 300,000tpa Carbon in Pulp (CIP) central processing facility (to be owned and operated by TTY);
Fast-track the development of Emmerson's small mining projects (permitting, development and mining by TTY) and;
Funding by TTY of $5m for exploration within the SPA to earn a 75% equity interest (ERM the Managers and Operators).
The A$5 million earn-in funding being provided by TTY over the Southern Project Area will further build the pipeline of mining projects to feed the new milling facility being constructed by TTY.
Construction work on this important regional facility has commenced with first production scheduled for 2019.
Exploration and Mining Joint Ventures
The Strategic Alliance consists of separate Exploration and Mining Joint Ventures over our Southern Project Area.
Landing Holding (Site Project Map)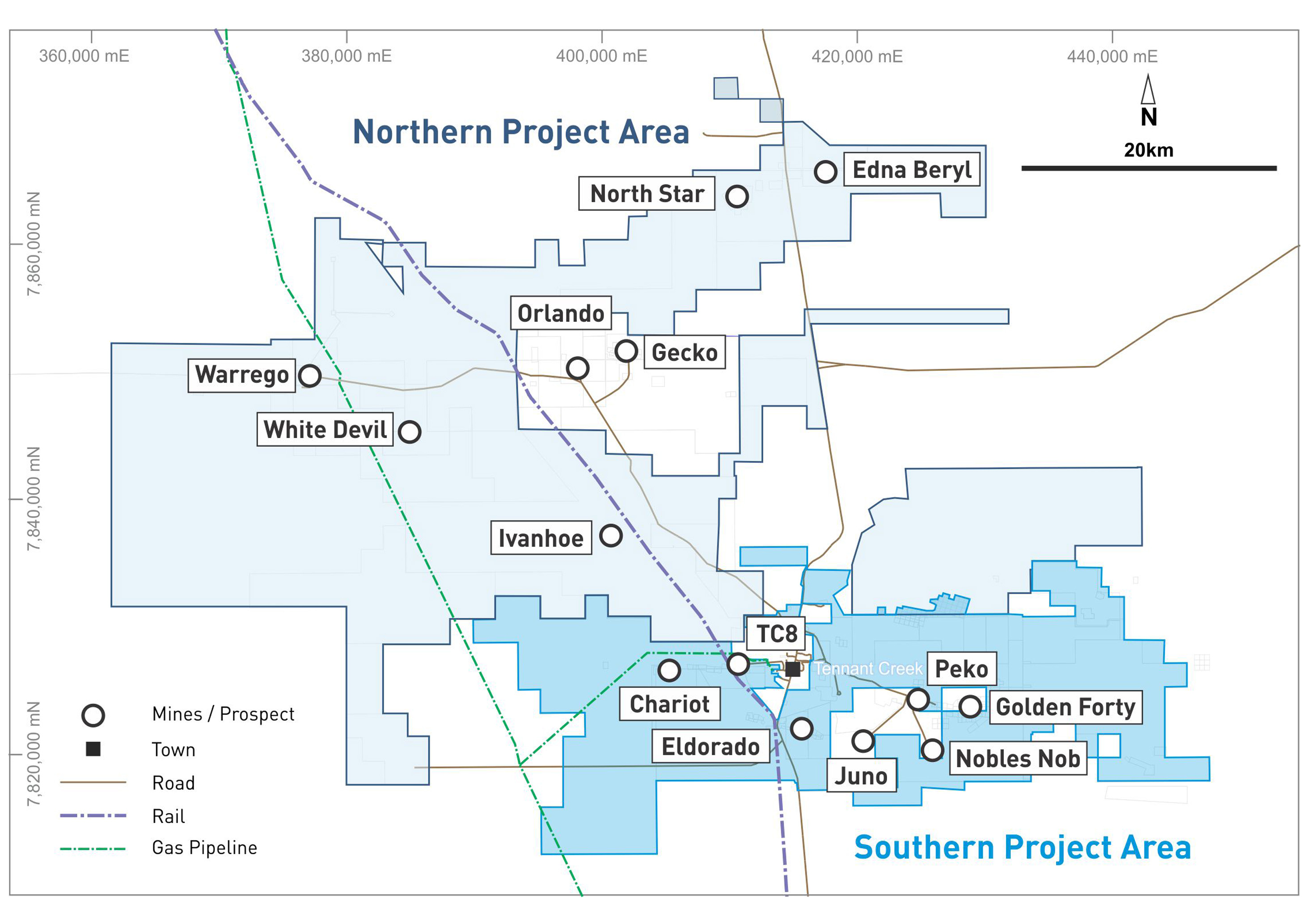 The Exploration Joint Venture
As part of the Strategic Alliance, TTY has entered into an Earn-in and Joint Venture over Emmerson's SPA. Historically, the southern area contains the highest gold endowment of the Tennant Creek Mineral Field and hosts the notable historical deposits of Nobles Nob, Juno, Peko and Eldorado.
Under the terms of the earn-in, TTY will contribute A$5m over five years to earn a 75% equity interest in the SPA. After the earn-in phase, a Joint Venture can be formed whereby Emmerson can elect to either maintain its equity position in the SPA by contributing 25% to the exploration programs, dilute or convert to a royalty.
During the earn-in, Emmerson is the operator and manager and will apply its systematic, science-based exploration that has been successful in other parts of the Tennant Creek Mineral Field. Emmerson is paid a management fee by TTY during the earn-in. Both parties will work collaboratively under an Exploration Management Committee that is aimed at identifying additional resources to feed the refurbished Warrego Mill.
The Small Mines Joint Venture
Emmerson and TTY have negotiated a Small Mines Joint Venture, consisting of a profit share and gold royalty agreement across its portfolio of small mines within the SPA. Mine planning and scheduling by TTY is well underway and contemplates concurrent mining from a number of both open cut and underground mines.
The proposed activity schedule under the SPA Mining Joint Venture Agreement includes the following projects:
Table 1: SPA Mining JV Projects
Project Area
Mining Potential
Upcoming Work
Edna Beryl Mine
Existing underground Tribute
Mining Area plus extensions
Mine existing Tribute Area and establish the Exploration Drill drive
Chariot Mine
Open pit and underground
Evaluate Chariot East and develop underground mine plans
Eldorado
Open pit and underground
Further drilling required
Black Snake
Underground
Exploration approvals granted by the NT Government
Golden Kangaroo East
Open pit
Further drilling required
Malbec West
Open pit and underground
Further work required
Golden Forty
Underground
Further work required
West Gibbet
Underground/open pit
Further work required
Note: most of these projects do not have JORC compliant Resources (except Chariot) and are considered as Exploration Targets. The Chariot project has a JORC (2012) Indicated and Inferred Resource of 170,000 tonnes at a grade of 17.4g/t gold for 99,000oz, as per Table 2 (Refer to ASX announced on 28 November 2013).
---
Table 2: Chariot Mineral Resource Estimation November 2013
Chariot Potential Open Pit (reported above a 1.0 g/t gold cut-off)
Classification
Tonnes
Gold grade (g/t)
Copper grade (%)
Gold ounces
Gold equivalent grade (g/t)
Copper metal (t)
Gold equivalent ounces
Indicated
Inferred
10,000
60,000
11.1
19.2
11.1
19.2
5,000
37,000
5,000
37,000
Chariot Potential Underground (reported above a 6.0 g/t gold cut-off)
Classification
Tonnes
Gold grade (g/t)
Copper grade (%)
Gold ounces
Gold equivalent grade (g/t)
Copper metal (t)
Gold equivalent ounces
Indicated
Inferred
50,000
50,000
16.0
18.4
16.0
18.4
27,000
31,000
27,000
31,000
TOTAL
170,000
17.4
17.4
99,000
99,000
Emmerson confirms it is not aware of any new information or data that materially affects the information set out above or the material assumptions or technical parameters underpinning these estimates, which continue to apply and have not materially changed.
The other projects are considered Exploration Targets and add a further 160,000 – 180,000oz of gold at an estimated grade of 15 – 20g/t gold (based on historical reports). This excludes any additional ounces added from the planned near mine exploration programs. These Exploration Targets are conceptual in nature. Whilst further drilling, metallurgy and mine optimisation studies are underway, these will not result in JORC resources estimates.
Under the terms of the agreement with TTY, Emmerson will receive a non-diluting 25% profit share from any mine within the SPA, other than Edna Beryl and Chariot (where Emmerson will receive a 12% and 6% respectively of the gold produced).
TTY will receive a 75% share of profits in exchange for undertaking the planning, funding, development and operation of the mines. At this stage, Emmerson's portion of the profit share cannot be determined until the mining, processing, and recoveries can be better ascertained for each individual mining project.